GASQ offer various services and products to assist security vendors in improving their bottom line.  We offer expertise in:
security service sales
marketing
industry pricing
cost proposal calculation
cost benefit analysis
bill rate analysis
risk assessments
physical security surveys
other administrative services in support of security vendors
Review our service offerings and take the next steps to put us on your team.
Lead Qualification
Instant Quotes
Bill Rates
Proposals
Reference Rates
Referrals
Consulting
Lead Qualification Monthly Packages
We offer 2 Lead Generation Monthly Subscription Packages (Standard and First Right of Refusal).  In each package, GASQ  will provide you with Qualified Leads and appointments with Decision Makers in 1 or more industries*.  We will also assist package subscribers with bill rates, pricing proposals, and bid negotiations.
Password provided upon transaction completion.

Standard Lead Qualification Package
(10 leads per month) $299
Full price $399 (25% savings)

First Right of Refusal Lead Qualification Package
(25 leads per month +) $699
Full price $999 (30% savings)

Packages Include:
Account Profile Setup ** | Marketing/Promotions | Sales and Bridge Support

---

We will:

respond to all prospects forwarded for qualification within a timely manner
confirm the prospect's need for security services
confirm if the prospect has an approved budget and funds to purchase security services
follow up with prospects to get a commitment and an appointment
maintain tracking of the qualification process and lead status
make immediate notifications after lead qualification success

---

Additional Marketing/Sales Services can be customized to fit your specific goals!
Do-It-Yourself Package
(Monthly)
Use of the GASQ Instant Quote Generator - Vendor Version
Gain Access to the GASQ Instant Quote Generator system. You'll save yourself loads of time with this easy way to calculate an estimated quote for your security services! The service cost quoted is always a simple best guess estimate. A GASQ QUOTE Estimate is accepted by security vendors nationwide.
Password provided upon transaction completion.
Subscription Length: 6-Months
Use of Vendor Quote Tool: Open Access
Use of Instant Quote Generator: Yes
Price Proposal Assistance: Not included

Open Access per month $159

Full price $799 (80% savings)

Add An Instant Quote Banner On Your Website

GASQ allows security vendors to add a banner image/link to the Instant Quote Generator Form (buyer version)
Subscription is not required to promote the system!
Bill Rate Analysis
The Bill Rate Analysis helps our vendor's identify excessive costs and effectively negotiate reasonable billing rates with their customers while ensuring quality service and a reasonable profit.
This analysis is especially beneficial to vendors participating in the GASQ Referral Program
FREE for monthly subscribers!
One included with Account Profile Setup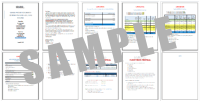 make payment and get started
Cost: $175
Cost & Price Proposals
GASQ calculates the budgetary requirements of the contracts you are bidding on. We address the scope of services, project schedule and resources required, i.e. monetary, personnel and equipment. We will provide a customized response to fit the Contracting document requirements.
Cost: Call for Pricing
Fee based on complexity of the bid response. Call us at (404) 922-2872 to discuss requirements and due dates.

GASQ Industry Standard Reference Rates
©
Our GASQ Industry Standard Reference Rates© and our GASQ Client Industry-Specific Cost Benefit Analysis© allows you not only to demonstrate economic value by how much money you can save your customers by outsourcing their in-house security function, but also alleviates the customers concerns about replacing and recovering money spent on your security services. In addition, our standardized pricing concept allows you to disengage quickly when the prospect's pricing doesn't fit your profitability profile. We eliminate vendor underbidding which not only affects the true value of the security contract, but also the quality of the services provided.
You may select one (1) from the following list:
GASQ High Risk/High Crime Locations/Emergency Services Rate
GASQ Armed Guard Standard Industry Rate
GASQ Unarmed Guard Standard Industry Rate
GASQ Bulk Rate
GASQ Business-to-Consumer Rate
GASQ Professional Services Rate
GASQ Consulting Services Rate
GASQ Out-of-Market Rate

Request an Industry Specific Rate
Cost: Free

Referral Partners Program
No need to turn down service requests that are out of your scope of services, billing rate requirements or operational location. Provide GASQ with the service request documents and we will send it to qualified security vendors within our network.
When a referral customer buys security services from one of our GASQ subscribers, you can earn 10% of the total contract commission earned by GASQ
BONUS: Send us three (3) referrals and you can get a 1-Month Lead Generation Standard Subscription service for FREE (a $399 value)

See our website's Out-of-Scope Referral Program to complete a referral submission form

Security Business Consulting
We can help you identify ways to strengthen YOUR security business. We can review your internal processes from bid responses to staff preparation.
Cost: Call for Pricing
Billing on a per hour basis. Call us at (404) 922-2872 to discuss issues and get a cost estimate.
---
* Industry Limitation: Get A Security Quote reserves the right to limit the number of Security Vendors within each industry or sub-category so that your location/region is not over saturated.
** Confidential Information: Security Vendors must provide complete and accurate operational and financial information for preparation of various required elements of the marketing, analysis and sales process. All provided information will be held in strict confidence and will not be used for any purpose not authorized by the Security Vendors.