Security Professionals
Thank you for considering GASQ for your security referral and lead generation service provider. We have prospects (security buyers) currently interested in acquiring your services.
Please take a few moments to complete the vendor opt-in application form below. We will be happy to put you in direct contact with potential buyers. To do that, we need a little information about your company including your email address, Facebook User Name and LinkedIn User Name. In return, you will receive free security project announcements.  You may choose how you would like to receive these notices, but in most instances your reply to us must be in the form of an email or document attachment.
Collected vendor opt-in registration data is kept strictly confidential. Only fully completed forms are accepted.
To qualify for your FREE security project notifications, just complete the vendor opt-in form and submit it today. You have lots to gain, and nothing to lose.  There is no upfront cost or obligation of any kind.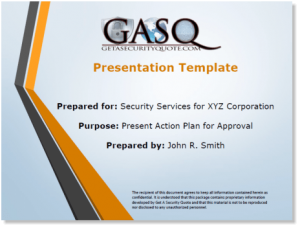 FREE DOWNLOAD
GASQ Presentation Template specifically designed for proposals written by Security Professionals. To get your copy, complete our free opt-in form below which gives you immediate access to the presentation template and login access to the GASQ Vendor Area.  Already a GASQ Vendor, simply login for access to the download file.