FULTON COUNTY, GA
source: Fox 5 News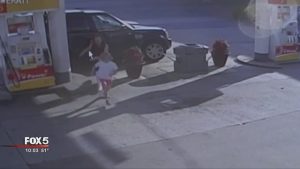 Gas station owners, worried that a mandate to hire around-the-clock security to tackle "slider" criminals would hurt their bottom line, met with local leaders to encourage them to repeal the mandate.
Instead, they argue business owners should come up with their own ways to voluntarily tackle crime.
Earlier this year, in an effort to combat the rash of car thefts and carjackings at gas stations around South Fulton County, the Fulton County Board of Commissioners approved a plan to require gas stations with high crime rates to hire 24-hour security patrols.
"I was very worried. We can't afford it," said Syrett Lue, who manages the gas station. The gas station has not been targeted by sliders, but the threat of a mandate still scares plenty of other small businesses.
"For us to afford that, we're going to have to increase our prices," Lue said, who is concerned higher gas prices could drive customers away and could force the business to shut down.
Thursday, gas station owners, along with the Atlanta Retail Association, submitted a formal proposal to Fulton County leaders calling for a rollback of the mandate while gas stations promise to voluntarily add signs to warn customers of criminals, increase window visibility for clerks to watch the parking lots; businesses would also provide incentives to officers to visit gas stations, from free fountain drinks and coffee.
"Voluntarily, store owners are willing to do a number of things," said Bill Crane, a spokesperson for the Atlanta Retail Association, who also said businesses would be willing to link their security cameras to law enforcement.
Gas station owners will formally propose their plan at an upcoming Board of Commissioners meeting. Chairman John Eaves promises to look at a measure to modify the security guard mandate to ease what his office calls an unnecessary financial burden on small businesses.
Commissioner Marvin Arrington, Jr., who proposed the security guard mandate, told FOX 5 he does not want to hurt small businesses, but hopes to keep the security guard mandate in place as a last resort to force uncooperative businesses to take action. He said he is open to brainstorming how businesses could take certain steps to boost security, such as hiring gas station attendants to pump fuel, before any mandate to hire security.