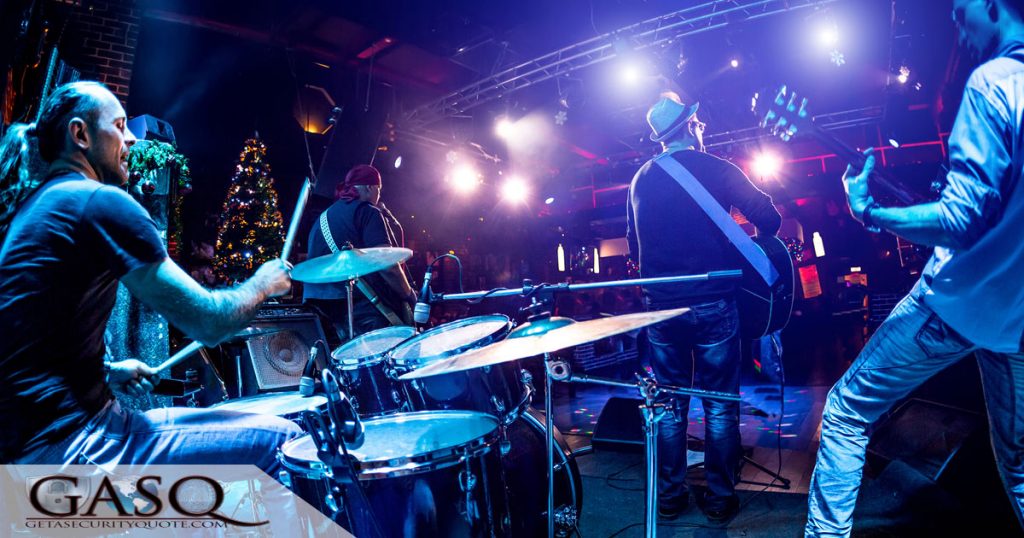 In this era that will be remembered, in part, for mass shootings, explosions, and other violent acts committed against the public, tighter security is practically a must at all large events. Concerts, in particular, are an area of concern for countless fans, performers, and all others who might be present.
Venues and event managers are stepping up the number of security staff they hire, as well as other precautionary measures to keep attendees safe. With added security comes additional costs, of course.
Nonetheless, the safety and well-being of the public must be a top priority for everyone involved. Event coordinators and venue managers must be prepared for the expenses associated with keeping live events safe.
Need Security? Download Our E-book to Discover How GASQ Makes a Difference!
Not sure if you need Get A Security Quote to help with negotiating your security guard needs? If so, download our e-book to discover the time and money saving benefits of working with us!
How Live Event Security Concerns Have Shifted
Not very long ago, people were generally able to attend events such as concerts without fear. Unfortunately, this has changed a great deal in recent years. In many cases, today's events require security staff inside the arenas and private guards or police may be involved outside the venues, as well.
In addition to increasing such personnel, it is also essential to effectively strategize how to implement event security. Event managers should set the expectation that security workers should be present from the time before a show begins until after everyone has left the premises. Venues may have surveillance equipment installed inside and outside their arenas, in addition to metal detectors at every entrance.
Determining How Much Event Security Personnel is Needed
Just how many guards might be necessary at a concert? Managers typically want to use enough security staff to keep everyone safe, but most won't want to spend more than that. At least a few factors may go into making that decision.
Managers should think about the size of the anticipated crowd, for one, and hire as many officers as it would take to maintain control of that crowd.
They should also consider whether or not alcohol will be served at an event. If there will be no alcoholic beverages, one security officer per every 150 people may suffice. If alcohol is to be served, the number of guards might be doubled for the same amount of people. At events with crowds of 250 or more, the number of guards necessary could be from four to 30 or more.
Average Cost per Security Guard
The cost of a security guard will vary based on specific details. Because their employer may be paying for insurance, the personnel who work for a large security company may cost more than independent workers. However, hiring independent guards for such events is not legal in all states.
Armed guards will likely charge more than unarmed security workers, and those with experience or special skills could cost more than others. Depending on the specific circumstances, a venue or event manager might expect to pay a wage rate of $15 to over $100 per hour for each officer.
Important Considerations of Live Event Security
In addition to using the right number of security workers, managers should take other crucial steps to ensure safety at live events. A reliable system of communication should be in place well ahead of an event. All involved should know their roles. Practicing emergency scenarios should be part of the preparations, and everyone should know the location of all the exits.
Large Venue Security Concerns
Bigger venues usually require the most security. Based on many recent events that have taken place across the world, the security personnel at large sites should be trained in handling acts of terrorism. They should know how to prevent and deter such occurrences, as well as how to correctly respond when they do happen. Many live shows may need different types of workers, from certified armed guards to those working out of uniform to assimilate with the crowd.
Security staff working large events may also be required to learn other skills, such as First Aid and CPR. They should be given proper background checks and drug tests before being hired. Stadium security should know how to manage aggressive behavior. All of the security staff should be trained in how to evacuate everyone in cases of emergency.
Tips for Choosing the Right Security Company
When looking for a security company, event and venue managers should consider a few details. First, event managers should determine whether the officers are bonded and insured. Another essential factor may be whether they work in uniform. It's critical to know whether the guards will be armed, and it's also good to find out if they have any specialized training or skills.
Many event managers and venue owners prefer to use a reputable third party that can find security for their events. Doing this can save time, effort, and money. It's also easier and more economical for many businesses to hire security this way for live events. Employing regular in-house guards is often a costlier way to go.
Conclusion
Having enough well-trained security at live events is more crucial now than ever. By establishing the size and scope of a concert, the managers may determine how many security guards should be used. A variety of factors must be organized before such events, and these considerations could affect the overall cost of security. Regardless of the expense involved, keeping concerts and other live events safe is of utmost importance. If you need security for an upcoming event, get an instant online quote today from GASQ.