Security Buyers
Our site enables you to post complete and compelling descriptions of your request for services that can be easily viewed by qualified vendors at any time 24/7.
Security Vendors
Grow Your Security Business. As a vendor, we allow you to bid on service requests. Get real-time quality security leads no matter what sector of the industry you're in.
SECURITY VENDOR ARTICLES
What Makes a Proposal Presentation Successful? GASQ has provided 11 tips for security professionals. learn more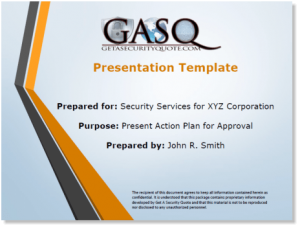 SECURITY VENDOR DOWNLOAD
GASQ Presentation Template for Security Professionals. To get your copy, complete our free vendor opt-in which gives you access to the template.  Already a GASQ Vendor, login for access to the file.
GASQ is focused on satisfying the unique needs of the contract security guard services industry, detective & investigation services industry, security consultant services, training and seminar services.